Co-Survivors
No one should face breast cancer alone. Co-survivors play a critical role in helping people with breast cancer, whether they are recently diagnosed or have already completed treatment. Co-survivors can be friends, spouses, pastors, family members, co-workers or neighbors, who do any number of things, large and small, to assist people dealing with breast cancer.
We recognize that co-survivors are vital to the quality of life patients experience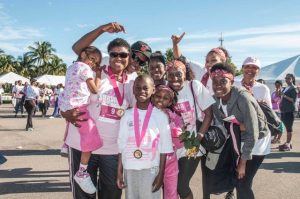 immediately after diagnosis, while undergoing treatment, and well into Survivorship.
On Race day, each survivor is given two pink roses. She or he keeps one for him or herself and presents the other pink rose to their co-survivor.
"White glove service" for our survivors
On Race day, we recognize our survivors for their bravery. Race day is an opportunity to show them how much they are loved, cherished and respected.
On Race Day, survivors will be:
welcomed into the Survivor Tent to share time together over a continental breakfast and to pick up a special Survivor gift bag,
awarded a special Race medal, and
invited to participate in a special survivor ceremony.
Breast cancer survivors are invited to wear a pink cap and T-shirt on Race Day. You will be able to identify yourself as a breast cancer survivor when you register for the Race. Please check the box on the Registration Form.
As a tribute to survivors and those lost to breast cancer, "In Memory Of" and "In Celebration Of" back signs are a wonderful way to honor friends and loved ones. They will be available at T-shirt pick-up and on Race Day.