Shantell Hutchinson
"WE CANNOT CURE you, WE CAN ONLY MAKE YOU COMFORTABLE AS THIS DISEASE PROGRES "
-Shantell Cox-Hutchinson
I had been diagnosed with Stage 4 Breast Cancer facing a 20% survival rate within the first five years after diagnosis. To me, it was a medical terminology and at 34, I was going to win this battle. With quiet assuredness from my conversations with God, my initial six chemotherapy and 26 radiation treatments started.
November 2006 – After a bone scan follow up, there was still active cancer cells, which required me to have weekly chemotherapy for 10 weeks throughout the holiday period. The debilitating physical experiences and communication with the doctor resulted in
NO MORE- enough!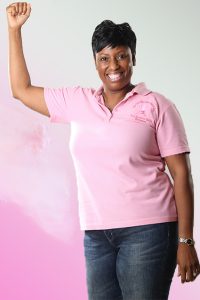 Breast Cancer patients, with strong family/ friends support, tend to recover faster and survive longer than those without. I anticipate a long survival period because my family, friends and co-workers provided a strong support network for me. They rallied around me during my battle – they brought encouragement, prayers, love, food and laughter during a time when I needed it most. I had to turn down offers to accompany me to chemotherapy.
October 2014- Nine years after being diagnosed with Stage 4 Breast, I am smiling and offering encouragement to other women diagnosed with breast cancer. As a part Of the Sister Sister Breast Cancer Support Group, I am given the opportunity to speak to Church Groups and Civic Organizations regarding my battle with Breast Cancer and what we can do as a society to reduce the alarming rate of occurrence of the dreaded disease. I encourage women to do their self-breast examinations andto talk to their Doctors about their health.
According to the medical world, I am in remission and only need monitoring. Personally, I am a walking miracle. In the beginning my Doctors told me that they would not be able to cure me, but they would make me comfortable as this disease progressed. I am happy to advise that I am extremely comfortable… God, Family, Friends and an entire community has walked with me through this journey and they have all assured me that they will never leave me. God has promised never to forsake me. He always takes care of his children. I am proud to say that I am a Breast Cancer Survivor!
Breast Cancer has brought joy into my life, it has removed many obstacles and has taught me that life is a journey and until God presents the ending, I still have many more miles to travel.
I am a Survivor.