Sunshine Staff Learns About Breast Cancer During BBCIF Lunch & Learn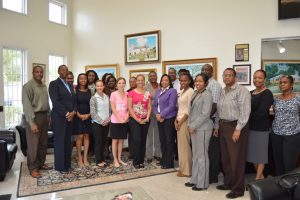 NASSAU, Bahamas – Men get breast cancer, there's no reliable test to detect ovarian cancer and even with a healthy diet and regular exercise, you can still get the disease – these were just some of the quick facts staff at Sunshine Holdings learned in an hour during a recent Lunch And Learn session organized by the Bahamas Breast Cancer Initiative Foundation (BBCIF).
The one-hour session is designed to help raise awareness about breast cancer and early detection through continuous public education and programs that encourage good diet, exercise and healthy living.
Dozens of Sunshine Holdings workers got a chance to grill BBCIF Genetic Counsellor Islay Thompson about ways to reduce their risk of breast cancer.
Thompson stressed the need to do regular breast exams and encouraged attendees to learn their bodies so that they are aware of changes.
The BBCIF is one of the beneficiaries of the Sunshine Insurance Race Weekend (SIRW) and which Sunshine Insurance is the lead sponsor and organizer.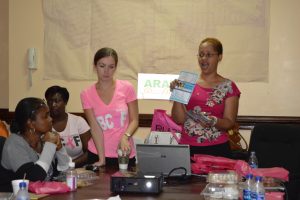 BBCIF Executive Director, Melissa Major shared her personal journey with cancer, noting that she was diagnosed with non-Hodgkin's lymphoma in her twenties.
During the presentation she detailed how she changed her lifestyle and urged the workers to adopt healthier lifestyles where they incorporate more fruits, vegetables in their diets and exercise for at least an hour daily.
Sunshine staff said they found the session informative and several participants vowed to make lifestyle changes.
Sunshine group shot caption: Sunshine Holdings staff pose for a quick photo with Bahamas Breast Cancer Initiative Foundation (BBCIF) officials following a Lunch And Learn session. (Photo/Jamal Johnson)
Sunshine BBCIF caption: Bahamas Breast Cancer Initiative Foundation (BBCIF) Executive Director, Melissa Major, shown on right, talks to Sunshine Holdings staff about ways to reduce their risk for cancer as BBCIF Genetic Counsellor, Islay Thompson listens. BBCIF officials recently held a Lunch And Learn session at the company. (Photo/Jamal Johnson)