Race Season Officially Begins
Race Season Officially Begins
Race for the Cure: Susan G. Komen Bahamas gears up for 8th anniversary
It's one thing to talk about breast cancer. It's another to actually do something about it, which is why Susan G. Komen Bahamas is pulling out all the stops to get more Bahamians racing for the cure.
Now in its 8th year, the annual event, is doing all it can to ensure that more Bahamians register for the January event.
Since 2011, the 5K race, which focuses on breast cancer awareness, has raised and donated hundreds of thousands of dollars to cancer charities in the country. Those funds have been used for genetic research and counselling, temporary housing for cancer patients, mammography machines and Portacaths for individuals undergoing chemotherapy.
The 2018 Race takes place on Saturday, January 13th and will feature a timed 5K run, an annual parade of breast cancer survivors, a concert, an awards ceremony and a spectacular Junkanoo rush-out.
Some of the hottest musicians are slated to perform, including Fanshawn, Patrice Murrell, Stileet and many other surprise appearances.
For the third year in row, comedian and Kiss 96 FM DJ, 'Naughty' will host the Survivors Ceremony on Paradise Island. Joining him for the first time will be Kiss 96 FM midday diva, Hope Shelly-Ann, who will inject her own flavor to the event.
Race organizers say they are determined to make this race the biggest in its history.
"As soon as our January event ended, our team sat down to chart the course for our 2018 race. We set out with the goal to not only increase the level of participation, but to involve more schoolchildren," said Rogan Smith, public relations chair for Susan G. Komen Bahamas.
"In the coming weeks, we will unveil radio and TV spots, several of which include children. We recently wrapped up a radio commercial with two young voiceover actors, Tatyanna Forbes and Sierra Blair. We can't wait for the public to hear it. Children have a unique way of reaching other children, so we're happy they donated their time and came on board. In addition to that, schools are already touching base to let us know that their students are going to participate."
Komen Bahamas is offering a special one-time offer – a $5 discount off its Komen registration fee from October 2-6th only.
All children 18 and under who sign up during this time will be automatically entered for a chance to win an iPad Mini with a case and earbuds.
"We have many giveaways that we will be unveiling in the coming weeks, but you have to register early for a chance to win," said Smith.
She also revealed that several media personalities will be taking part in a special Komen Bahamas public service announcement.
"We have a TV spot that we will be running shortly that hopefully will get people to see that everyone, in some way, shape or form, has been impacted by cancer. We're not going to say just yet who is in it, but personally I think a lot of people are going to be surprised," she said. "We're just happy that they all came on board and all of these fine folks are true supporters of our event."
Komen Bahamas Sponsorship Chair, Chakita Archer, said the organization is especially grateful to the many sponsors whose funding helps make the event possible.
"We couldn't do any of this without our incredible longtime Platinum sponsors, like the Ministry of Tourism, Atlantis and Focol. We feel honored that they have all returned, particularly at a time like this when so many companies are trimming budgets," she said.
"We are also pleased that Aliv has come on as a Platinum sponsor. This is their first year with us, and we are just blown away by what they have in store for Komen Bahamas. We can't wait for everyone to see what they're about to do. We'd also like to thank Dunkin Donuts, which is going to hold registration drives every other Friday at its East Street South location, starting in October and will be doing something special for everyone that registers. Every last one of our sponsors has played such a crucial role in Komen Bahamas and they are all just terrific – from those who were with us from inception to the very new ones who decided to hop on. We are very thankful for their support."
The Komen Bahamas race will be held Saturday, January 13, 2018 at the Montagu foreshore. It ends on Paradise Island.
The first 2,000 runners who cross the finish line will receive a unique finisher's medal to commemorate the race.
The net proceeds from the race will be donated to the Cancer Society of The Bahamas, the Cancer Society of Grand Bahama Branch, Sister Sister Breast Cancer Support Group and the Princess Margaret Hospital Foundation.
To register online or to volunteer, visit komenbahamas.org.
To register in person, visit Sunshine Insurance's offices on East Shirley Street or Baillou Hill Road.
Sunshine Insurance (Agents & Brokers) Ltd. is the lead organizer and sponsor of the event.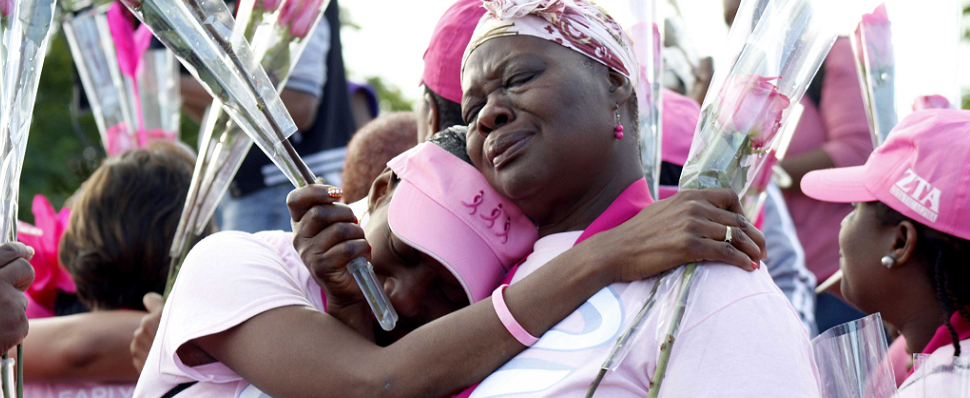 ###