Nine-Year-Old Girl Registers For Komen Bahamas Walk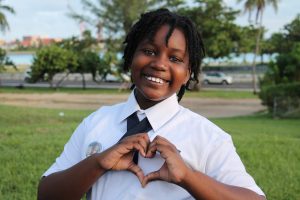 Just days after Tatyanna Forbes created a radio ad urging children to register for a local cancer walk, she took her own advice and did the same.
The nine-year-old fourth grader recently headed inside the studio to record a commercial for the 8th annual Susan G. Komen Bahamas Race for the Cure®.
"Here I was in the commercial telling kids to ask their mummy to sign them up for the Komen walk and I wasn't even registered. So, I decided to walk the walk. I asked my mummy and she said yes," said the Albury Sayle Primary School student.
"So, on January 13th, I will be walking with my family. I can't wait to get my medal when I cross the finish line. I took part in the race last year and it was a lot of fun."
Tatyanna's mother, Phedra Forbes, who participated in the Komen race for the past two years, said registering her daughter for the walk was the right thing to do.
"I decided to sign Tatyanna up because cancer doesn't only affect adults, it also affects children. Cancer awareness starts from very young. I would like for her to be aware that there are different diseases in this world and we can do a lot to prevent them. The Komen race is also a fun activity to do with my daughter and our family," said Mrs. Forbes.
"I really enjoyed the two years I participated thus far because not only did it bring out my creative side, as I got to decorate my outfits, but it was a great experience to walk, run and see how many volunteers, participants and survivors there are in this little town who want to make a difference. Unfortunately, I won't be able to participate in January, but I am making sure my daughter carries on the tradition of racing for the cure."
Mrs. Forbes said she was "extremely excited" that Tatyanna was asked to be in the commercial.
"I thought that was so different. We always hear from the adults, but I think hearing from a child made it so unique. The listeners out there get to see that even the youngest, as young as nine, can be aware of breast cancer," said Mrs. Forbes.
Since Tatyanna's debut, she admits that she has gotten quite a bit of attention from her classmates and teachers, who have been congratulating her. Now, she wants others to follow in her footsteps.
"I want more kids just like me to sign up. Just because you're a kid doesn't mean you can't do your part. I'm ready and I told my mummy that I want to wear all pink and have pink ribbons in my hair and my tutu. I can't wait."
To register for the 8th annual Susan G. Komen Bahamas Race for the Cure, visit komenbahamas.org.
The current cost for children under the age of 12 is $15.
Children 18 and under are automatically entered to win an Apple iPad Mini.
Komen Bahamas is presented by Sunshine Insurance and is sponsored by the Ministry of Tourism, Atlantis, Focol and Aliv to name a few.
###