Komen Bahamas Anthem Goes International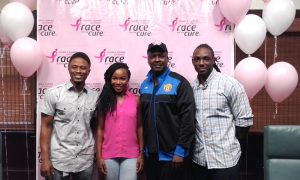 An upbeat tune that Visage members created to uplift Bahamians battling cancer has gone international.
Last year, Visage Band Bahamas members, Dyson Knight and Wendi Lewis and producer, Frederick Seymour donated the Komen Bahamas Anthem to the Susan G. Komen Bahamas Race for the Cure®.
The song officially launched on October 1, 2015 for the start of Breast Cancer Awareness Month. Since then, the infectious tune has grown in popularity.
International Network Manager for Susan G. Komen US, Martina Prinz said the Komen Anthem could be played at all of the Komen races in the near future.
"Puerto Rico affiliates are really excited about the song as well. This song epitomizes the challenges and feelings that cancer patients feel and the power that lies within us as we overcome these challenges," said Prinz.
"It is celebratory and it affirms. The Komen Bahamas Anthem is uplifting."
Knight, one of the song's creators, said he was thrilled to be a part of the process.
"It was an honour and pleasure for [Komen Bahamas marketing coordinators] Chakita [Archer] and Rogan [Smith] to contact me and say that they were interested in Visage creating a song. I felt encouraged by their attitudes," he said.
"When they approached me, they were energized; they were ready to go to battle. As an artist, our job is to translate emotions into music and translate stories into lyrics in ways that people can understand. That's what we wanted to do with this song."
Sunshine Insurance (Agents & Brokers) Ltd., which is the lead sponsor and organizer for the Susan G. Komen Bahamas Race for the Cure, congratulated the artists involved in creating and producing the song.