For BahamasLocal.com Breast Cancer Is Personal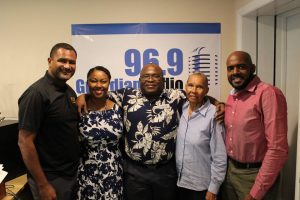 BahamasLocal.com might not know everything, but they know they've got to do something to get rid of breast cancer.
The popular search engine has partnered with the Susan G. Komen Bahamas Race for the Cure for a second time, in a bid to raise awareness about the disease.
On Tuesday, BahamasLocal.com's Sales Manager, Francis Taylor appeared on the Guardian morning talk show, Morning Blend with host Dwight Strachan and co-host Farrell Goff, to promote the January event and make a plea for residents to take part in the 5K race.
He was joined by Komen Bahamas PR Chair, Rogan Smith and Sister Sister Breast Cancer Support Group President, Andrea Sweeting, who urged residents to register early and get regular check-ups.
"BahamasLocal.com is committed to providing residents of The Bahamas with timely and life changing information. That is why we have been a willing participant in the Susan G. Komen Bahamas Race for The Cure event for a second time. We realize that the scourge of cancer can only be defeated if the concept or awareness is deeply rooted in the mind of the residing population," he said.
For Mr. Taylor, fighting breast cancer is personal.
"My mother underwent a mastectomy in 1969 and is alive today at the age of 94. I believe it was her awareness of her cancer affliction that ultimately saved her life. The cancer was caught in the early stages, so it was able to be removed from her body," he said.
"There is indeed life after breast cancer and the courageous women of the Sister Sister organization are living proof of this. Simply put, getting the word out on becoming aware of your status saves lives."
Meantime, Ms. Sweeting urged Bahamian women to not be embarrassed to tell the stories of their journey with breast cancer. She said not only is it therapeutic, but it could also save other lives.
"When you're the one battling cancer, it is you who has to remain strong for your family and for your friends. If you fall apart, the family will as well. It's a strange thing, because you would figure that the one battling cancer is the one who can feel down. But, you have to remember that the family follows your lead," she said.
"This is why we encourage our ladies to join our group. We tell them cry, scream and let it all out with us; that's why we're here – to support them and we can take it. But, just telling your story helps and it means so much to other women who are afraid and going through the same thing.
Sister Sister is just one of four cancer charities that Komen Bahamas raises money for annually.
The event, which is in its 8th year, focuses on raising awareness and money for breast cancer.
Those funds have been used for genetic research and counselling, temporary housing for cancer patients, mammography machines and Portacaths for individuals undergoing chemotherapy.
On Monday, Sunshine Insurance, which is the lead organizer and sponsor of Komen Bahamas, donated $50,000 to those organizations.
"I want people to understand that the money that we donate comes from sponsorships and registrations. We cannot donate if we don't raise money. That's why we're doing all we can to encourage Bahamians to register," said Mrs. Smith.
"We are anticipating 2,500 participants, but really, there's no reason why we shouldn't have 5,000 or even 10,000 people registered. Not one of us in this country has been untouched by cancer and if we haven't, it's only a matter of time before we are. So, we all have to do our part because tomorrow, it just may be us or our family that needs financial assistance," said Mrs. Smith.
The 2018 Race takes place on Saturday, January 13, 2018 and will feature a timed 5K run, an annual parade of breast cancer survivors, a concert, an awards ceremony and a spectacular Junkanoo rush-out.
Some of the hottest musicians are slated to perform, including Fanshawn, Patrice Murrell, Stileet and many other surprise appearances.
For the third year in row, comedian and Kiss 96 FM DJ, 'Naughty' will host the Survivors Ceremony on Paradise Island. Joining him for the first time will be Kiss 96 FM midday diva, Hope Shelly-Ann, who will inject her own flavor to the event.
Race organizers say they are determined to make this race the biggest in its history.
To register, visit komenbahamas.org.
For complete information on how you can become a willing participant and contributor to this great cause, visit: https://www.bahamaslocal.com/showlisting/19494/